Tuxedo Brothers Event Management
Entry Information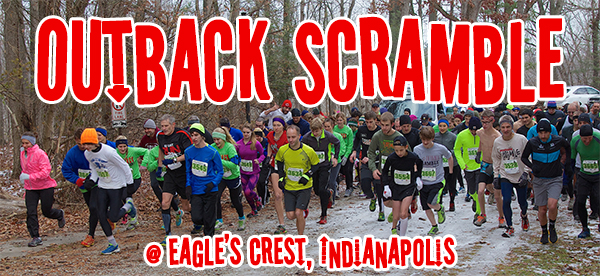 Location - Eagle's Crest: 7201 Fishback Road, Indianapolis, IN 46278
Date - TBD
Time - 9:34am

About the event
The Outback Scramble is a wacky, rugged ~4-mile cross-country course at Eagle's Crest, located just north of Eagle Creek Park in Indianapolis. Participants should expect to be muddy (and possibly bloody) by the time they cross the finish line!
This event is proud to support Gleaners Food Bank of Indiana.

***DISCLAIMER: This is a rugged cross country course (not a trail run). The course contains steeps inclines and climbing.***
We also encourage participants to bring non-perishable canned food donations on race day! Those that bring a donation are eligible to pre-register at a discount!




Price
With canned food donation

*

$22

Without canned food donation*





$26
*All pre-registered participants will receive a long-sleeve Outback Scramble shirt!
Field Size
This event is limited to the first 273 registrants......we're kidding! Bring the family!


Looking to Volunteer?
We are always accepting volunteers! If you are interested, please contact Jessica, our Volunteer Coordinator, at jessica@tuxbro.com!

Contact us
With any questions, please e-mail us at info@tuxbro.com or call us at 317-733-3300.
Thank you to our 2018 Outback Scramble Sponsors