2019 Bop to the top - Event Info



IMPORTANT: We are still planning to host the event, unless SEVERE WEATHER hits Indianapolis on Friday/Saturday. We will be updating our Facebook, Twitter and website by Friday with any changes. Stay tuned!

Update (Friday, 5:30pm) - Snow is expected to hit Indianapolis around 3:00am and continue into the afternoon, but we are still on for the race! Safe travels to everyone!

Climb the 36 floors of the OneAmerica Tower on January 19 in the 36th annual Bop to the Top stair climb, benefiting Riley Children's Foundation. Take the challenge and climb all 780 steps as an individual or as part of a 4-person team! Bring the family out, as this event is open to all ages and abilities.





When

Saturday - January 19, 2019

Time

8:30AM


Where

OneAmerica Tower - 1 American Square, Indianapolis, IN 46282



Riley Children's Foundation
Bop to the Top is proud to support Riley Children's Foundation! Since 1984, over $750,000 has been raised by this wonderful event! Our goal for 2019 is $15,000!

Participants have the option to create their own personal or a corporate fundraising pages, where you can collect donations from your friends, family or co-workers!

Riley Children's Foundation receives 100% of funds raised by individuals and teams who set up fundraising pages, so please consider the difference you can make in a child's life!

Click here to create a page, or donate to a page.

IMPORTANT: Creating or donating to a fundraising page through Team Riley DOES NOT REGISTER YOU FOR THE EVENT! You must still complete the registration process here.

You can also bring your donations to the event site on January 19th. If you bring cash or checks, please fill out and bring the pledge form with you on January 19.


2019 Riley Champion - Aiden Hunter


Bopping to the Top in 2019 will be Aiden Hunter. Aiden, who is a freshman at Zionsville Middle School, was recently named as a Riley Champion. After spending 32 days at Riley Hospital for Children, he has made a full recovery. Click here to read Aiden's blog.

You can also help Aiden reach his fundraising goal of $500 by clicking here!

Entry Fees
Through Dec. 31

Jan. 1 - 18

Raceday

Under 13
(1 time up)
$22
$25
$25
13 and Over
(1 time up)
$28
$33
$36
Triple Step
(3 times up)
$40
$45
$50
4-Person Team
(1 climb/person)
$30
$35
$38
Participant Shirts

Participants will receive an awesome long-sleeve shirt!

Shirt sizes/availability not guaranteed if you register after Wednesday, January 16th!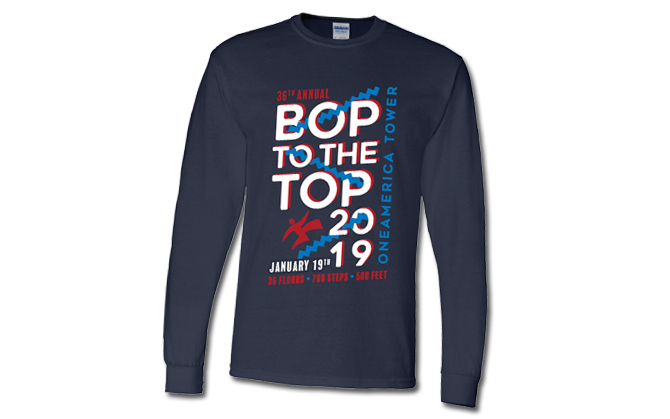 Seeding & Start
Participants will be seeded based on a previous stair climb time or a recent 5K time, provided during registration. Seeded participants will start between 8:30AM and 10:30am.

START TIME LISTING for those that registed by Friday 8AM




Participants will start one at a time, every 15-20 seconds.

Packet Pick-Up
Friday, January 18 – Participants are encouraged to ge their packets early, to avoid the lines on Saturday

Location: Bicycle Garage Indy (242 E. Market St., Suite #101, Indianapolis, IN)
Time: 11:00am - 1:00pm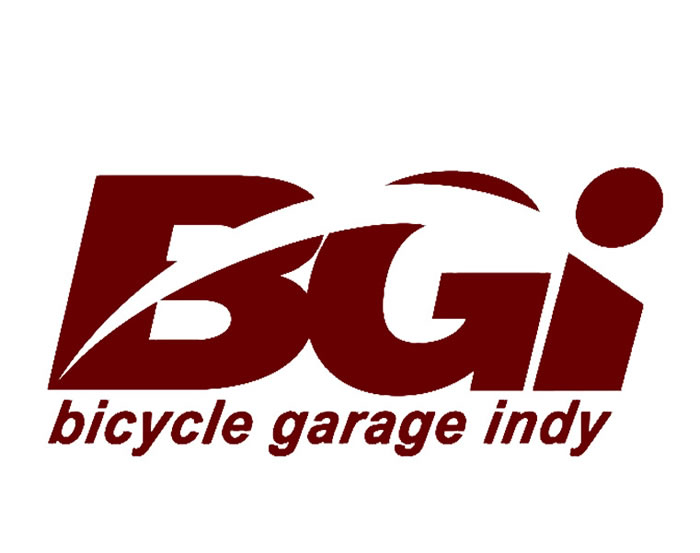 Saturday, January 19- Get your packet on raceday at the OneAmerica Tower, from 7:30AM - 11:30AM. Please arrive AT LEAST 45 minutes prior to your start time, if you have been seeded. All participants MUST START their climb by noon.


Raceday Registration
We will take new registrations, starting at 7:30AM. Start times will be based on climbing ability - faster people will start around 8:30AM. Registration for the Triple Step division will close at 9:00AM on race day. Those who are participating in the Individual or Team divisions will be able to register until 11:30AM. Please arrive AT LEAST 45 minutes prior to your desired start time. We will do our best to accommodate you!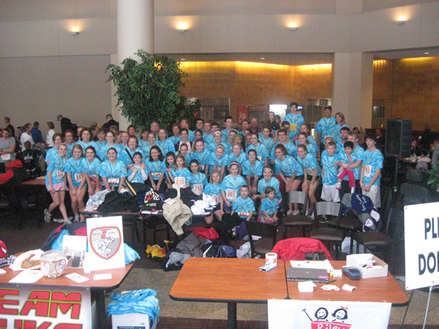 Triple Step Division

Is one climb just not enough? Climb the tower 3 times and we'll add your times up for a 'Total Time'*!
You will have a 3 hour time period to complete all three climbs. Your 3 climb times are added together and do not include rest time between climbs. Triple Steppers will be seeded near the 8:30AM time slot.
All Triple Steppers must start their climb by 9:00AM.
*Triple Steppers are ineligible for Individual Single Climb and Team Competition awards


Team Competition
Teams consist of 4 members, who will each climb the tower 1 time. Individual times will be added together for a total team time. Members of the teams are eligible for individual awards. There will be seven (7) divisions of teams.


Open– Must include 4 members on a team, male or female.
Family- Must consist of 4 immediate family members (Parents, children, etc.)
Masters- Must consist of 4 members 40 years of age or OLDER, AND at least one (1) female
Co-ed – Must include at least two (2) females
All-Female - Must consist of 4 females
Collegiate Open- Must consist of 4 college students, AND at least one (1) female
Fire Fighters – Must consists of 4 members of a Fire Department - male or female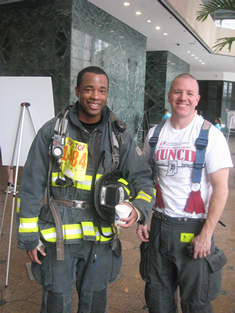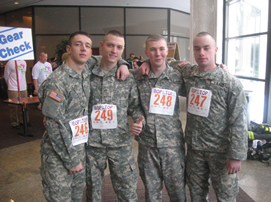 FREE Parking
Park your vehicle for FREE in the garage or surface lot, located directly north of the OneAmerica Tower between Capitol Avenue and Illinois Street.
Gear Check
Gear check will be provided to all participants and will be located in the lobby of the OneAmerica Tower.

Awards

Stick around after you're done "Bopping" for the awards ceremony at 12:30pm in the OneAmerica auditorium, located on the first floor. Winners will receive an amazing mug!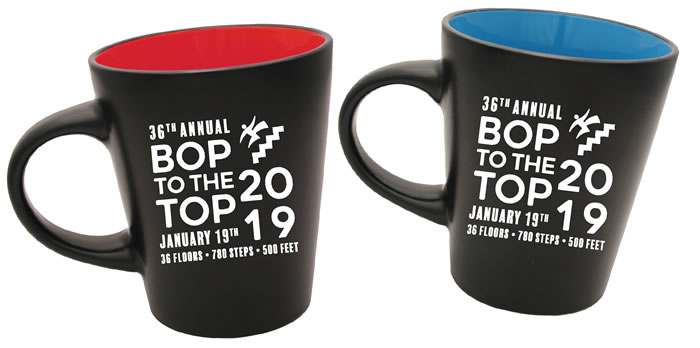 ---Individual Awards---
- Top 3 Individual Overall male/female finishers in the Single and Triple Step climbs
- Top 3 finishers in each division - Big Guy (200 lbs), Big Big Guy (225 lbs), Big Big Big Guy (250 lbs+), Athena (female-165 lbs+)
---Age-Group Awards---
8 and under, 9-10, 11-14, 15-19, 20-24, 25-29, 30-34, 35-39, 40-44, 45-49, 50-54, 55-59, 60-64, 65-69, 70-74, 75-79, 80-84, 85 and above
---Team Awards---
- Top 3 teams - Open, Family, Masters, Co-Ed, All-Female, Collegiate Open, and Fire Fighters
---The top fundraiser for Riley Children's Foundation---
Not up for a climb? Come out and VOLUNTEER!
Enjoy the exciting atmosphere of Bop to the Top without having to climb a single step! Register here as a volunteer to be a part of this awesome event!

All volunteers will receive an event shirt, free parking, and refreshments!

You can help out in the following areas:
- Packet Pick-up (7:00am to 11:00am)
- Gear Check (7:30am to 11:30am)
- Water Station (7:3am0 to 11:30am) 
- Floor Monitors (7:30am to 11:30am)
- Start/Finish Team (7:30am to 11:30am)
- Elevator (7:30am to 11:30am)
- T-Shirt (7:30am to 11:30am)
- Volunteer Check-in (7:30am to 11:30am)