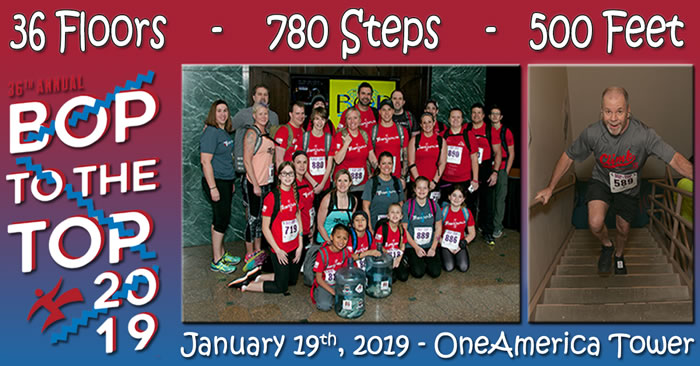 IMPORTANT: We are still planning to host the event, unless SEVERE WEATHER hits Indianapolis on Friday/Saturday. We will be updating our Facebook, Twitter and website by Friday with any changes. Stay tuned!

Update (Friday, 5:30pm) - Snow is expected to hit Indianapolis around 3:00am and continue into the afternoon, but we are still on for the race! Safe travels to everyone!





Climb the 36 floors of the OneAmerica Tower on January 19 in the 36th annual Bop to the Top stair climb, benefiting Riley Children's Foundation. Take the challenge and climb all 780 steps as an individual or as part of a 4-person team! Bring the family out, as this event is open to all ages and abilities!
PRE-REGISTERED BIB AND START TIME LISTING
(For those that are pre-registered by 8am Friday)
Thank you to our 2019 Sponsors

For sponsorship inquiries, contact Meg Osborne at meg@megpromo.com!