Carmel Sprint Triathlon

Event Information

Date - Sunday, April 30, 2017
Location - Carmel High School
Time - 9:00am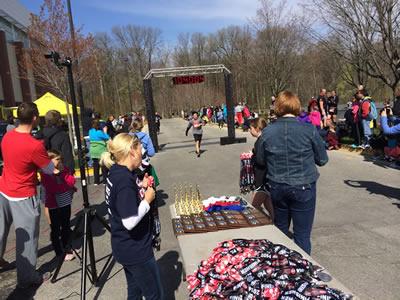 Event Description
The 12th annual Carmel Sprint Triathlon, hosted by Carmel Swim Club, is the ideal sprint distance triathlon for both beginners and experienced triathletes looking to have fun and tune-up for the season ahead! The atmosphere of this event is youth friendly and provides a great opportunity to introduce kids to the sport of triathlon.
Carmel Swim Club is a USA Swimming Gold Club. All proceeds from the event support the development of youth athletes in this nationally-recognized program.
Course Distances
| | | | |
| --- | --- | --- | --- |
| | Swim (Meters) | Bike (Miles) | Run (Miles) |
| Adult | 400 | 10 | 3.1 |
| Youth (10-15) | 300 | 3 | 1 |
| Youth (6-9) | 200 | 3 | 1 |
- Youth (age 14+) may compete in the adult race, but must have an adult present with them when registering.
NOTE: All Youth athletes will compete at the AGE they are on event day.
Youth bikes must have working brakes and all athletes must have helmet on and strapped during bike portion. ALSO - NO drop or areo handlebars are allowed for youth.
Awards
Overall Awards
- Individuals - Top 3 male and female finishers
- Relays - Top 1 male, female, and co-ed
Age Group Awards - Top 3 male and female
- Youth Ranges: 6-7, 8-9, 10-11, 12-13, and 14-15
- Adult Ranges: 14-17, 18-20, 21-24, 25-29, and on in five year increments to 70 & over
- Clydesdale (220 lbs +) - Age 39 and under, and Age 40 and above
- Athena (165 lbs +) - Age 39 and under, and Age 40 and above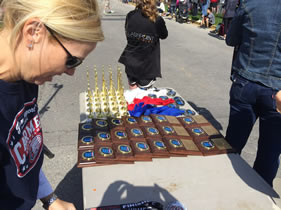 Beginners Clinic #1


Date - April 1
Time - 11:00am - 12:00pm
Location - Endurance House (Fishers)
Join the team at Endurance House Fishers on April 1 at 11AM as they discuss how YOU can accomplish a smooth and efficient transition - and feel confident in the Carmel Sprint Triathlon! They will be touching on how you can successfully coordinate your hydration/nutrition during the race based on your individual needs!
Topics Will Include:
Setting up your transition area
What to do before, during, and after T1 (swim to bike) andT2 (bike to run)
Tips for more efficient transitions
Nutrition for Race Day
Hydration for Race Day


Race weekend Schedule and Details
Packet Pick Up/Expo & Late Registration
Saturday, April 29, 2017
1:00pm - 4:00pm
All Saturday events are to be held in the Carmel High School Greyhound Station. Please park in adjacent lot on the north side of high school and enter through Door 21.

Beginners Clinic #2
Did you miss the first clinic? No problem! Endurance House will be leading ANOTHER clinic at Packet Pick Up! Make sure you attend if you need any last-minute advice before the race!



Note: No bike drop available Saturday.
Raceday
Sunday, April 30, 2017
- Parking on Race Day is in the football stadium parking lot located on the north side of
Smokey Row Blvd. (136th Street) north of the high school.
- Staging for the race is held at Greyhound Station, in Carmel High School.
- Gear Check will also be located inside Greyhound Station, from 8:00 am - 12:00 pm.
---Packet Pick Up---

6:30 am - Transition Areas open
7:15 am- 8:15 am
Participants must be pre-registered. There will be no raceday registration!


---Race start times---
Adult
8:30 am - ADULT Pre-Race Meeting (Mandatory)
9:00 am - ADULT Race Start
Youth
9:45 am - YOUTH Pre-Race Meeting (Mandatory)
10:15 am - YOUTH Race Start
---Awards Ceremony---
12:00 pm (Time may vary)