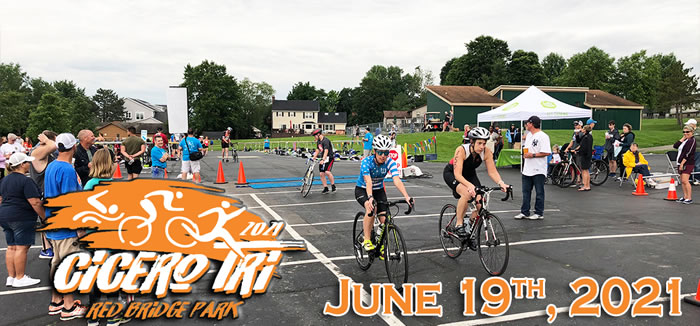 The Cicero Triathlon & Duathlon is a popular, sprint distance event that is great for beginners, as it begins with a short/straight swim across Morse Reservoir. The gently rolling bike course will loop you through part of Hamilton Country before heading back to the park. Finally, the run course is an out-and-back format.

This event is open to everyone ages, 14 and above.
| | |
| --- | --- |
| Date | June 19, 2021 |
| Time | 8:00am |
| Location | Red Bridge Park (697 W Jackson St, Cicero, IN) |
Event Options
Sprint Triathlon - 400 yard swim, 11 mile bike, 3 mile run

Duathlon - 2 mile run, 11 mile bike, 3 mile run

Triathlon Relay - 2 to 3 person team (1 person swim, 1 person bikes, 1 person runs)

Duathlon Relay - 2 people (1 person runs, 1 person bikes, 1 person runs)

Participant Shirt
All participants who pre-register by June 13 will be guaranteed an awesome, softstyle
T-shirt. Sizes/availability may be limited after June 13.

Please note that shirts will be ordered in mens' sizing. Choose accordingly when registering.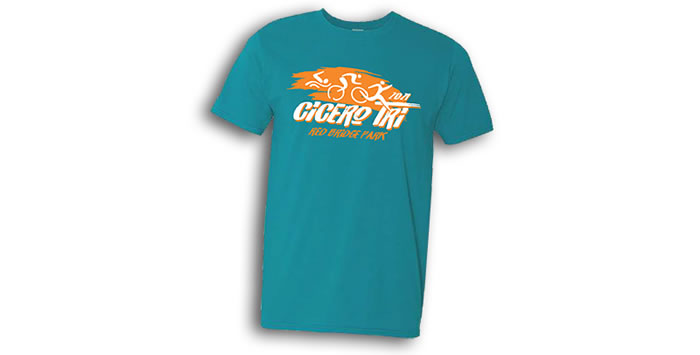 Overall, Age-Group and Division Awards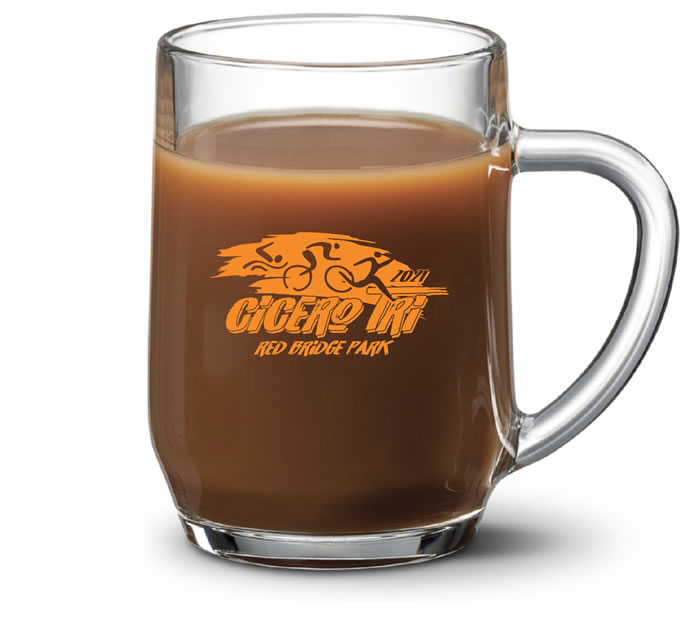 Stick around after you finish for the awards ceremony. Awards will be given out to participants in the following format. Awards will be self-serve, and winners will pick up their own awards from the table.


Overall Awards
- Triathlon Individuals - Top 3 male and female finishers
- Duathlon Individuals - Top 1 male and female finishers
Age Group Awards
- Triathlon - Top 3 male and female finishers
- Duathlon - Top 1 male and female finishers
- Age Ranges: 14-17, 18-20, 21-24, 25-29, 30-34, 35-39, 40-44, 45-49, 50-54, 55-59, 60- 64, 65-69, 70-74, 75 and above.
Fat Tire & Clydesdale/Athena Awards - Top 3 male and female
- Clydesdale (220+ lbs) - Age 39 and under, and Age 40 and above
- Athena (165+ lbs) - Age 39 and under, and Age 40 and above
Team Awards- Top 3 in each division
- All Male
- All Female
- Co-ed

Divisions
Clydesdale/Athena
Males must be 220+ lbs and females must be 165+ lbs to qualify for the Clydesdale or Athena Divisions. Competing in one of these divisions will make you ineligible for age group awards.
Fat Tire
In order to qualify for the Fat Tire division, you must have a mountain bike with a minimum of 1.5 inch tires and upright handle bars. Competing in Fat Tire will make you ineligible for age group awards. There will be both a male and female Fat Tire division.

Timing/Scoring
The event will be timed using the MYLAPS multi-sport timing tag system. Each participant will be given an ankle strap that will need to be secured properly to their ankle. This ankle strap MUST be worn during the duration of the race. If you are a participant on a relay team, the ankle strap will serve as your relay teams "baton" and will be passed to each team participant as they finish their portion of the event.

YOUR ANKLE STRAP MUST BE IMMEDIATELY RETURNED TO A FINISH LINE VOLUNTEER! THERE IS A $10 FEE FOR LOST/UNRETURNED ANKLE STRAPS!
TIME LIMITS
We ask that all athletes finish the event in a reasonable amount of time. Race officials have the ability to stop or disqualify any athletes who does not meet the time limits as follows:
Swim must be completed within 30 minutes of the start of race
Bike course must be completed within 1 hr and 30 minutes from start of race
Run course must be completed with 2 hr and 15 minutes from start of race
Raceday Refueling
There will be two water/Gatorade stations located on the course. The first will be located at the run exit of the transition area and the second will be at the half way point of the run course. Additional refreshments and snacks will be provided at the finish line.
RESULTS
Results will be posted under the Results tab above after the event.


Parking
Participants and spectators will be allowed to use the parking lot at the Boathouse Restaurant, where the swim start will take place. The address is 409 W Jackson St, Cicero.

Any overflow parking will be allowed to use the lot across the street at La Cascada Mexican restaurant, located at 400 W. Jackson Street.
INTERESTED IN VOLUNTEERING?
Not sure you are ready for a triathlon? Come out and volunteer! Volunteering is a great way to get involved, have fun, and learn all about the sports of triathlon and duathlon. Plus, all volunteers will receive an event t-shirt and refreshments!

If you are interested in volunteering, please register through the Volunteer Tab.

USAT SANCTIONED Event
This event is sanctioned by USA Triathlon. All USAT rules will be enforced. Please visit https://www.teamusa.org/usa-triathlon for information on rules and regulations as well as information for those interested in obtaining a USA Triathlon License. The event is limited to ages 14 and above.