Please review the information below, as it is very important for participants to know!

Detailed Pre-Race Instructions will be e-mailed to everyone on Thursday, June 17

BIB ASSIGNMENTS
Participant Bib #s will be available AFTER 12:00pm on Friday, June 18. View here ----> Bib # Assignments

We are still accepting entries at Packet Pick Up either Friday or Saturday morning if you wish to sign up.
WEATHER ALERT
As you know weather is unpredictiable! We plan to host this event rain or shine. Thunderstorms/lightning will cause a delay or cancellation. We will not make any decisions on delay/cancelation until close to race time of 8AM - Let's hope for the best!

DIRECTIONS TO THE EVENT SITE
Red Bridge Park is located in Cicero, IN, just 30 minutes north of Indianapolis. It is located at 697 W. Jackson Street.
Arriving from Indianapolis-area:
- Take US-31/Meridian Street to 236th Street and turn right.** Red Bridge Park is located just before crossing Morse Reservoir, on the right. You will need to proceed across the lake to the designated parking areas then ride your bike back along the pedestrian bridge to the park.

**Be aware that there is currently road construction on 236th Street (Jackson Street). west of Red Bridge Park. Please use the detour below.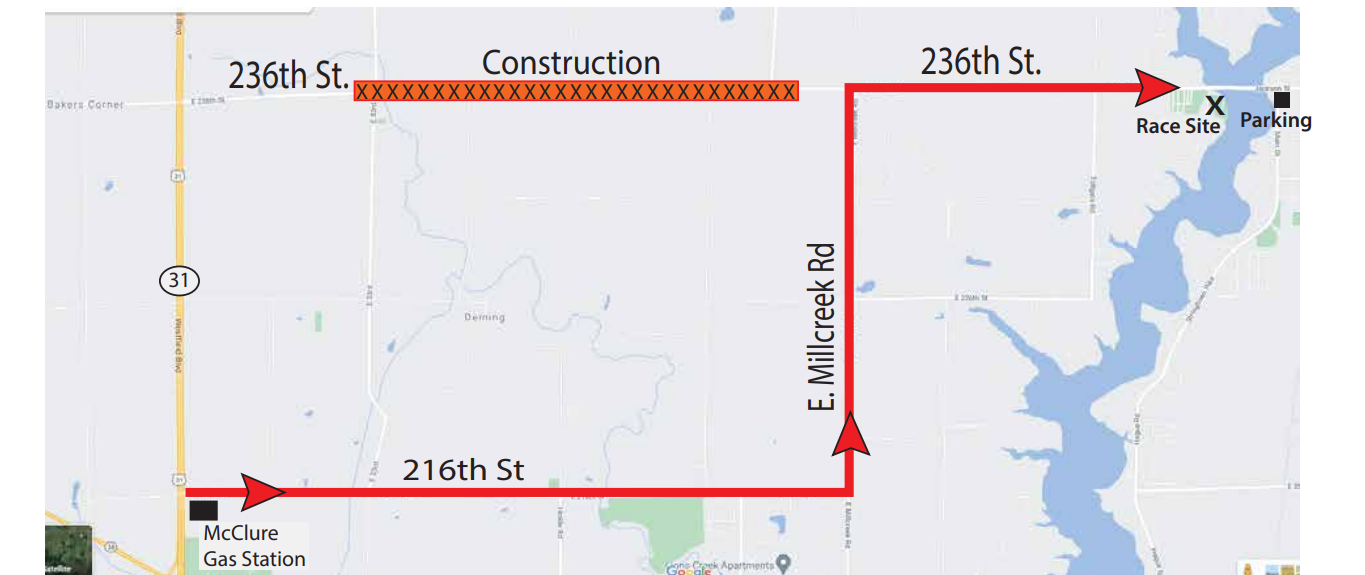 Arriving from Fishers/Noblesville-area:
- Take I-69/IN-37 north and turn left onto 191st Street. Turn right onto Cumberland Road and go north until Jackson Street. Turn left onto Jackson Street, and Red Bridge Park is located just over Morse Reservoir.
PARKING POLICY
No vehicles will be allowed to park in the parking lot at Red Bridge Park. This is used as the Transition Area/Finish Line. Below are the options that participants may use to park.

Be sure to allow yourself plenty of time to park, walk to Packet Pickup, get yourself set up in the Transition Area, and get to the Swim Start!
PRE-RACE MEETING
All participants are encouraged to attend the pre-race meeting scheduled for 7:30 AM in the transition area. This meeting will review the latest update with the course and rules. All participants are strongly encouraged to be checked in and have their gear set up in the transition area before this time. Do NOT arrive to the race site at 7:30 AM, as it will be too late!
WAVE START LIST
TEAMS
Teams may consist of 2 or 3 members. Teams will compete in a relay format (one swimmer, one biker, one runner). Teams will have a separate area in the transition area, so look for a sign on race morning. Each team must exchange the ankle strap with the MYLAPS timing tag on it.
TRANSITION AREA
The transition area is located in the parking log at Red Bridge Park. This area will be fenced off and only participants and race officials will be allowed inside this area. Bike racks will be set up with participants assigned to the racks by gender and age group. You must return your bike to the assigned rack before you begin the run.

The transition area is secured at 7 AM and will be disbanded at 10:00 AM. The race organization is not responsible for bikes and equipment left in the transition area after 10:00 AM.


COURSE MAPS
Click on the links below to see the course maps for each portion.
Swim Course
Bike Course 
Run Course

GENERAL RULES
The USA Triathlon competitive rules will be enforced. It is the participant's responsibility to know the rules of the sport. Click here for more information.

USAT RULES
Please review our USAT Rules tab. You are responsible for knowing these!

For even more information, click here.


IN NEED OF A WET SUIT?
Visit our friends at Runners Forum for any of your multi-sport needs!