PRE-RACE INSTRUCTIONS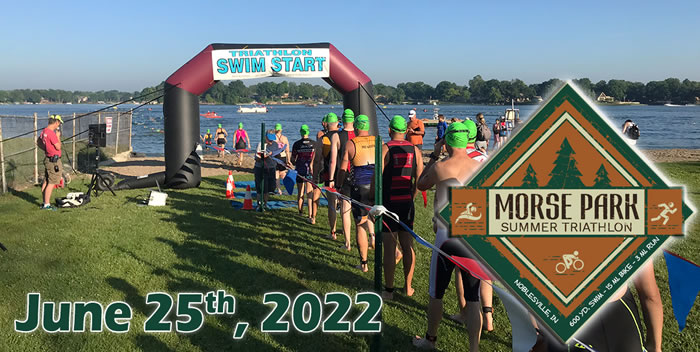 BIB ASSIGNMENTS
Participant Bib #s will be available to review AFTER 12:00pm on Friday, June 24. Once available, they will be posted to the following link ----> View Bib # Assignments


DIRECTIONS TO MORSE PARK & BEACH
Morse Park is located at 19777 Morse Park Lane. This is on the north side of Noblesville - just west of 196th Street and Hague Road.

Due to limited parking at Morse Park, you will need to park in nearby lot or surrounding neighborhoods, then you will need to ride/walk to the park.


PRE-RACE MEETING
All participants are encouraged to attend the pre-race meeting scheduled for 7:30 AM in the transition area. This meeting will review the latest update with the course and rules. All participants are strongly encouraged to be checked in and have their gear set up in the transition area before this time. Do NOT arrive to the race site after 7:30am!
TEAMS
Teams may consist of 2 or 3 members. Teams will compete in a relay format (one swimmer, one biker, one runner). Teams will have a separate area in the transition area, so look for a sign on race morning.

Each team must exchange the ankle strap with the MYLAPS timing tag on it.
TRANSITION AREA
The transition area will be the entire parking lot near the beach house. The transition area will be fenced off and only participants and race officials will be allowed inside this area. Bike racks will be set up with participants assigned t the racks by sex and age group. You must return your bike to the assigned rack before you begin the run.

The transition area is secured at 6:30 AM and will be disbanded at 10:30 AM. The race organization is not responsible for bikes and equipment in the transition area.


THE SWIM START
We will send participants off individually from the shore. This will help to eliminate the congestion of large waves of people. We will start each person approximately 2 seconds apart. The order of the swim start will be based on swimmer ability and will be designated per assigned bib number. It should take about 15 minutes to clear the start line.
We will also have an "elite wave" of male and female - for those athletes that feel they can realistically finish in the top 3 overall. The 'elite wave' athletes will start together before the other athletes begin. You do not have to pre-register for this group - just let us know race morning. The overall results are still based on the fastest time for the course - meaning that a person that starts in an age-group can still be the overall winner if they have the fastest overall time.

GENERAL RULES
The USA Triathlon competitive rules will be enforced. It is the participant's responsibility to know the rules of the sport. Click here for more information.


USAT RULES
Please review our USAT Rules tab. You are responsible for knowing these!