Tri indy - Event Info
Join 1,500 athletes in the 10th Annual Tri Indy Triathlon and Duathlon! This Olympic, Sprint and Duathlon distance event will utilize the picturesque canal of downtown Indianapolis and the streets traversing the city's cultural and historic landmarks.
When
Sunday, July 30
Time
7:30AM - Olympic Distance Start
7:45AM - Duathlon Start
8:30AM - Sprint Distance Start
Where
Celebration Plaza at White River State Park - 801 W. Washington St, Indianapolis
Event Options
- Olympic Distance - 1500 meter swim, 40K bike, 10K run
- Sprint Distance - 500 meter swim, 20K bike, 5K run
- Duathlon Distance - 2 mile run, 20K bike, 5K run
- Olympic Distance Relay - 2 to 3 person team (one person swims, one person bikes, one
person runs), Team Categories: All Male, All Female and Coed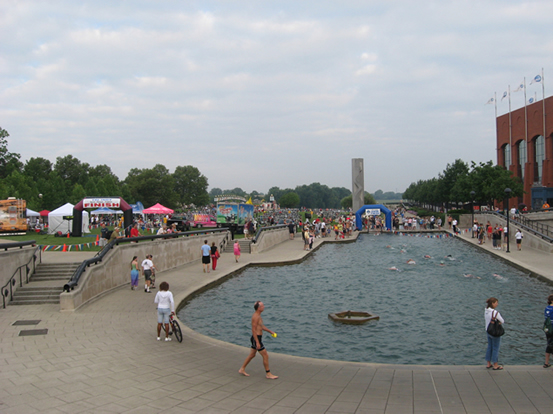 Entry Fees
Before 7/24
7/24 - 7/29
Race Day
(If not sold out)
USAT Member
Non-
Member
USAT Member
Non-
Member
USAT Member
Non-
Member
Olympic Triathlon
$70
$85
$75
$90
$80
$95
Sprint Triathlon/Duathlon
$65
$80
$70
$85
$75
$90
2-3 person Team Relay,
Olympic ONLY

$105
$120
$120
$135
$135
$150
USAT Members receive $15.00 off your registration
If you're under 21, over 64, or in the military, receive $5.00 off your registration*
*Age on 12/31/2017
Pre-Race Instructions
Pre-race instructions are posted HERE


Participant Shirt & Finisher Medal
All participants will receive a high-quality, Tech t-shirt! Shirts will be ordered in unisex sizing. Choose accordingly when registering.
Take home some bling, too! All finishers in the triathlon and duathlon will also receive this amazing finisher medal!



OVERALL, AGE-GROUP AND DIVISION AWARDS
Our overall, age-group and division winners will take home an official 2017 TRI Indy draw string bag! It is lightweight, and perfect for carrying around gear!

Overall Awards
- Sprint Triathlon Individuals - Top 3 male and female finishers
- Olympic Triathlon Individuals - Top 3 male and female finishers
- Duathlon Individuals - Top 1 male and female finishers
Age Group Awards
- Sprint Triathlon Individuals- Top 3 male and female finishers
- Olympic Triathlon Individuals - Top 3 male and female finishers
- Duathlon - Top 2 male and female finishers
- Age Ranges: 14-17, 18-20, 21-24, 25-29, 30-34, 35-39, 40-44, 45-49, 50-54, 55-59, 60- 64, 65-69, 70+
Clydesdale/Athena and Fat Tire Awards
- Clydesdale (220 pounds +) - Top 3 male
- Athena (165 pounds +) - Top 3 female
- Fat Tire - Top 3 male OR female
Team Awards- Top 3 in each division
- All Male - Top 3 teams
- All Female - Top 3 teams
- Co-ed - Top 3 teams
Divisions
Clydesdale/Athena
You must be a 220+ pound male or a 165+ pound female to qualify for these divisions. Competing in one of these divisions will make you ineligible for age group awards.
Fat Tire
In order to qualify for the Fat Tire division, you must have a mountain bike with a minimum of 1.5 inch tires and upright handlebars. Competing in Fat Tire will make you ineligible for age group awards. There will be both a male and female Fat Tire divison.
Gear Check
Gear check will be provided to all participants. Volunteers will be located at the swim start for both the Olympic and Sprint distances and will bag and label materials as requested. Items may be picked up post race at the Gear Check tent. Gear Check will be open until 12:00PM. Any items that are not retrieved will be taken back to Tuxedo Brothers Headquarters. Any items not claimed within 30 days will be donated to a local charity.
Bike Tech Support
Endurance House will be providing race day tech support for participants.
CUT OFF TIMES
The Triathlons/Relay and Duathlon each have cut-off times. For safety reasons and city permit time limits we must follow the below guidelines. Anyone that cannot finish their event within the time frame must withdrawl from the competition.
The Swim venue will CLOSE at 9:30AM
The SECOND Loop of the BIKE COURSE will CLOSE at 9:45AM - any Olympic distance athlete still on the first lap will be sent back to the transition area on Blackford Street.
The entire BIKE COURSE will close at 10:30AM
The RUN COURSE will close at 11:45AM
Timing/Scoring
The event will be timed using the IPICO multi-sport timing tag system. Each participant will be given an orange or black timing tag that will need to be secured properly to the provided ankle strap. The ankle strap, with the timing tag attached, MUST be worn around your ankle during the duration of the event. If you are a participant on a relay team, the timing tag and ankle strap will serve as your relay "baton" and will be passed to each team participant as they finish their portion of the event.
Raceday Refueling
Water/Gatorade stations will be located at every mile along the run course as well as the finish line. Other refreshments and light snacks (fruit, cookies, granola bars, muffins, etc.) will be provided in the packet pick-up tent after the race.
Results
Results will be posted under the Results Tab after the event.
Parking
Parking along streets is FREE on Sunday in downtown Indy. Parking is available at the Indianapolis Zoo for a flat rate of $10.00. The Indiana State Garage charges $10.00 and the IUPUI Riverwalk Garage charges from $5.00 for 1 hour up to $10 for 7 hours.
FREE BEGINNERS CLINIC ON SATURDAY
Mike "Smitty" Smith of Runners Forum and Doug Robinson of Phoenix Fitness & Training will host a BEGINNER's CLINIC at Packet Pick-up on Saturday, July 29 at 2:30pm inside the Hall of Champions. Come listen as these veteran triathletes talk you through all the important parts of doing a triathlon. This clinic is the perfect opportunity for beginners and intermediate level triathletes to learn valuable tips. It's absolutely FREE - just show up.
INTERESTED IN VOLUNTEERING?
Not sure you are ready for a triathlon? Come out and volunteer! Volunteering is a great way to get involved, have fun, and learn all about the sports of triathlon and duathlon.

If you are interested in volunteering, please fill out and submit our Volunteer Form. Our events would not be a success without our dedicated and helpful volunteers!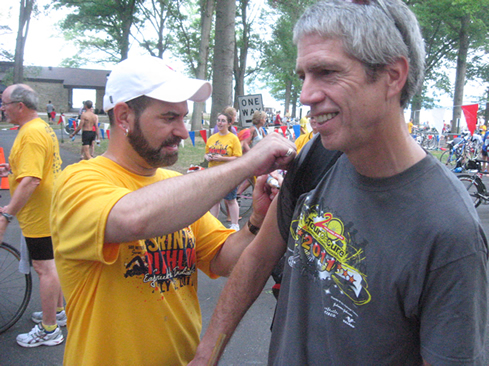 Training for Tri Indy with Phoenix FitnesS
Phoenix Fitness and Training is offering 8 weekly coach-led swim, bike, and run practices to help athletes train for the Sprint and Olympic distance triathlons at Tri Indy. This program, coached by Doug Robinson and Heather Pickey, encompasses training for the beginner's development as well as the seasoned racer. For only $25 per month, athletes will receive a weekly group practice schedule and workout plan. There will always be coaches on hand to help with appropriate training and technique development to assist each person in getting the most out of their training time. More information here
USAT Sanctioned
This event is sanctioned by the USA Triathlon. All USAT rules will be enforced. Please visit http://www.usatriathlon.org for information on rules and regulations as well as information for those intersted in obtaining a USA Triathlon License. The event is limited to ages 14 and above for the individual competitions and age 12 and above for team competition.