Event Info
Join the fun on Sunday, July 30 for the 16th annual TRI Indy Triathlon and Duathlon! This Olympic, Sprint and Duathlon distance event will utilize the picturesque canal of downtown Indianapolis and the streets traversing the city's cultural and historic landmarks.
When
Sunday, July 30
Time
7:30AM - Olympic Distance Start
7:45AM - Duathlon Start
8:30AM - Sprint Distance Start
Where
Celebration Plaza at White River State Park - 801 W. Washington St, Indianapolis
Event Options
- Olympic - 1500 meter swim, 40K bike, 10K run
- Sprint - 500 meter swim, 20K bike, 5K run
- Duathlon - 2 mile run, 20K bike, 5K run
- Olympic Team Relay - 2 to 3 person team (one person swims, one person bikes, one
person runs)
- Team Categories: All-Male, All-Female and Co-ed
Participant Shirt & Finisher Medal
All participants who pre-register by July 23 will be guaranteed an awesome, soft style T-shirt. Sizes/availability may be limited starting July 24.

Please note that shirts will be ordered in unisex sizing. Choose accordingly when registering.

Take home some bling, too! All finishers in the triathlon and duathlon will also receive an amazing finisher medal!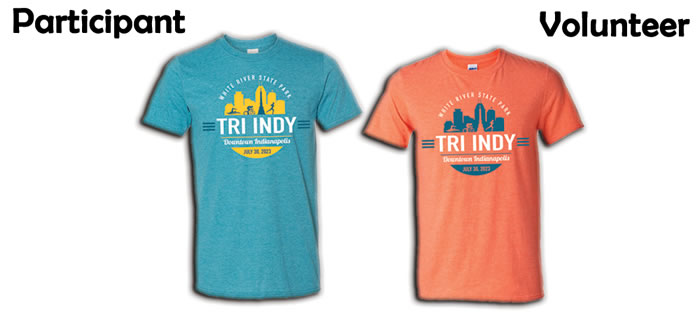 Pre-Race Instructions
Pre-race instructions are posted HERE

A Pre-Race email will be sent to our participants on Thursday, July 27. This will include full instructions for raceday.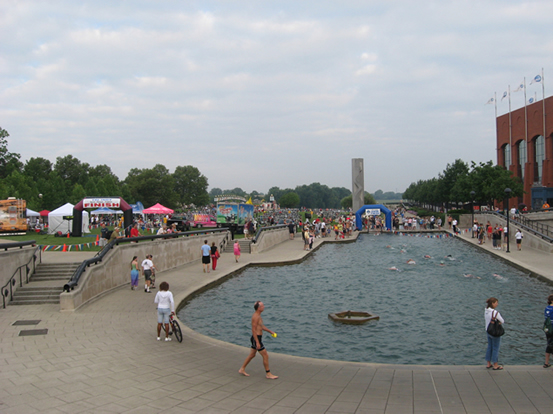 Overall, Age-Group and Division Awards
You may pick up your Overall and Age-Group awards from the Awards Tent beginning at 10:30am, from the southeast corner of White River State Park.

Overall Awards
- Sprint & Olympic Triathlon Individuals - Top 2 Male & Female
- Duathlon Individuals - Top 1 Male & Female
Age-Group Awards
- Sprint & Olympic Triathlon - Top 3 Males & Females
- Duathlon - Top 2 Male & Female
- Age Ranges:14-17, 18-20, 21-24, 25-29, 30-34, 35-39, 40- 44, 45-49, 50-54, 55-59, 60-64, 65-69, 70+
Clydesdale/Athena & Fat Tire Awards
- Clydesdale (220+ lbs) - Top 3 (Age 39 and under, and Age 40 and above)
- Athena (165+ lbs) - Top 3 (Age 39 and under, and Age 40 and above)
- Fat Tire – Top 3 Male OR Female
Team Relay Awards
- All-Male – Top 3 teams
- All-Female – Top 3 teams
- Co-ed – Top 3 teams

Divisions
Clydesdale/Athena
Males must be 220+ lbs and females must be 165+ lbs to qualify for these divisions. Competing in one of these divisions will make you ineligible for age group awards.
Fat Tire
In order to qualify for the Fat Tire division, you must have a mountain bike with a minimum of 1.5 inch tires and upright handlebars. Competing in Fat Tire will make you ineligible for age group awards. There will be both a male and female Fat Tire divison.
Gear Check
Gear check at the Swim Start will be provided to only Olympic distance participants. Volunteers will be located at the swim start for the Olympic distance and will bag and label materials as requested. Items may be picked up post race at the Gear Check tent (see site map above) until 12:00pm. Any items not claimed within 30 days will be donated to a local charity.
Sprint triathletes and Duathletes are asked to take their gear directly to the Gear Check tent, before walking to the Swim Start.
CUT OFF TIMES
All portions of the individual events and team relays have cut-off times. For safety reasons and city permit time limits we must follow the below guidelines. Anyone that cannot finish their event within the time frame must withdraw from the competition.
The Swim venue will CLOSE at 9:15AM
The SECOND Loop of the BIKE COURSE will CLOSE at 9:45AM - any Olympic distance athlete still on the first lap will be sent back to the transition area on Blackford Street.
The entire BIKE COURSE will close at 10:30AM
The RUN COURSE will close at 11:45AM
Timing/Scoring
The event will be timed using the MyLaps timing tag system. Each participant will be given a black ankle strap. The ankle strap MUST be worn around your ankle during the duration of the event. If you are a participant on a relay team, the timing tag and ankle strap will serve as your relay "baton" and will be passed to each team participant as they finish their portion of the event.
Raceday Refueling
Water/Gatorade stations will be located at every mile along the run course as well as the finish line. Other refreshments and light snacks (fruit, cookies, granola bars, muffins, etc.) will be provided in the packet pick-up tent after the race.
Results
Results will be posted under the Results Tab after the event.
Parking
Vehicles are recommended to use the following options:
- Street Parking
- White River State Park Garage – 3 hrs - $8, 3-6 hrs - $15, 6+ hrs $40
- IUPUI Riverwalk Garage – $7
- Indianapolis Zoo - $8


Interested in Volunteering?
Not sure you are ready for a triathlon? Come out and volunteer! Volunteering is a great way to get involved, have fun, and learn all about the sports of triathlon and duathlon. Plus, all volunteers will receive an event t-shirt and refreshments!

If you are interested in volunteering, please register through the Volunteer Tab.

Saturday, July 29
- Packet Pick-Up Shift #1: 1:30pm - 4:00pm
- Packet Pick-Up Shift #2: 3:30pm - 7:00pm

Sunday, July 30
- Packet Pick-Up: 5:30am - 8:00am
- Body Marking: 5:45am - 8:30am
- Transition: 6:30am - 11:30am
- Gear Check: 6:30am - 11:30am
- Bike Course: 6:30 - 10:30(Meet at Major Taylor Velodrome - 3649 N. Cold Spring Road)
- Run Course: 6:45am - 11:30am
- Water Station: 6:45am - 11:30am (times vary by station)
- Directional in White River Park: 7:30am - 11:00am
- Finish Line: 7:30am - 12:00pm


USAT Santioned Event
These events are sanctioned by the USA Triathlon. All USAT rules will be enforced.

The event is limited to ages 14 and above.

CLICK HERE for information on rules and regulations.